100 feared dead as migrant boat sinks off Italy
Share - WeChat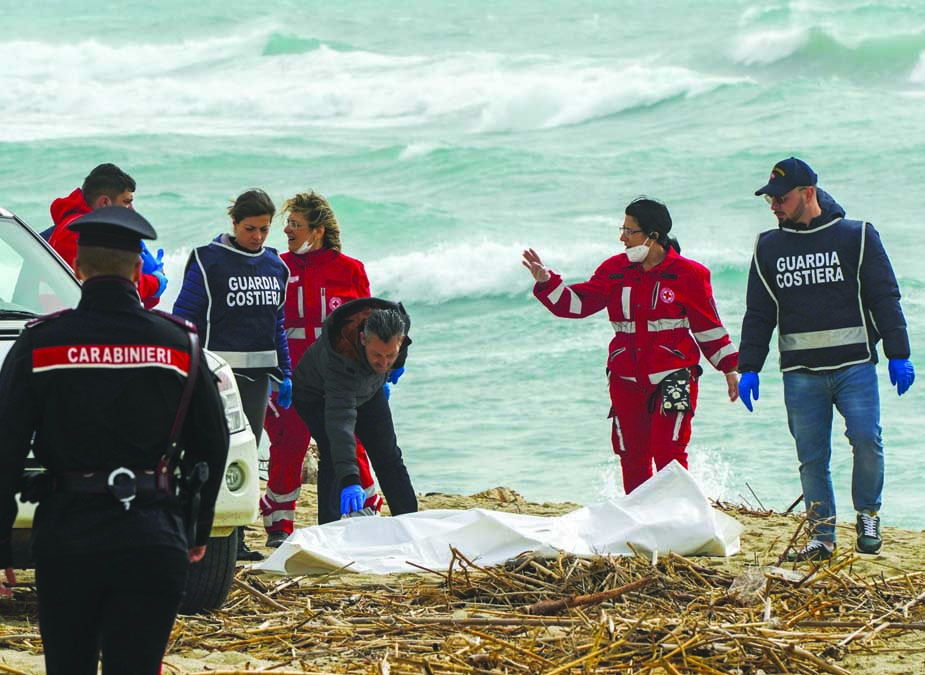 Charities and human rights groups working with refugees have demanded better protection for vulnerable people after a vessel carrying around 200 migrants sank in rough seas off the coast of Italy on Sunday.
The incident, which may have claimed around 100 lives, was the latest in a series of tragedies triggered by the huge number of people wanting to relocate to Europe from warzones and impoverished areas — and the willingness of people-smugglers to profit from them.
As of Monday morning, the Italian authorities had recovered 62 bodies, including those of 12 children. They said another 30 or so likely remained in the water off Crotone, in southern Italy, where the boat went down after hitting rocks.
Most of those who perished were from Afghanistan, Iran, Pakistan, and Somalia.
Charities say more than 20,000 people have died trying to cross the Mediterranean Sea since 2014.
Regina Catrambone, director of the Migrant Off shore Aid Station, told the BBC European nations must do more to help people who are desperate to risk their lives in such a way.
"Still there is no cooperation among the European states to actively coordinate together to go and help the people in need," she said.
Catrambone called on the European Union to ramp up its search and rescue capability, and introduce safe, legal routes for migrants to follow.
She said the bloc should also share responsibility evenly, instead of heaping it all on members closest to Africa and the Middle East.
Antonio Guterres, secretary-general of the United Nations, said at the UN's Human Rights Council in Geneva on Monday: "Refugee and migrant rights are human rights. They must be respected without discrimination."
Sergio Di Dato, from the charity Medecins Sans Frontieres, told the BBC medics encountered heartbreaking stories at the scene of the sinking.
"We have cases of children who became orphans, such as a 12-year-old Afghan boy who lost his entire family — a family of nine people — including four siblings, parents, and other close relatives."
Antonio Ceraso, mayor of a town close to the scene of Sunday's shipwreck, told the Italian TV channel Rai News: "There have been landings but never a tragedy like this."
Agence France-Presse said around 80 people who had been on the boat are known to have made it ashore alive. AFP said the boat had left Turkey several days before the sinking.
Italy's Prime Minister Giorgia Meloni put the blame for the deaths firmly with the people-traffickers.
"It is inhumane to exchange the lives of men, women, and children for the price of the 'ticket' they paid in the false perspective of a safe journey," she said. "The government is committed to preventing departures, and with them the unfolding of these tragedies, and will continue to do so."