Blue skies proof of major steps to boost air quality
Share - WeChat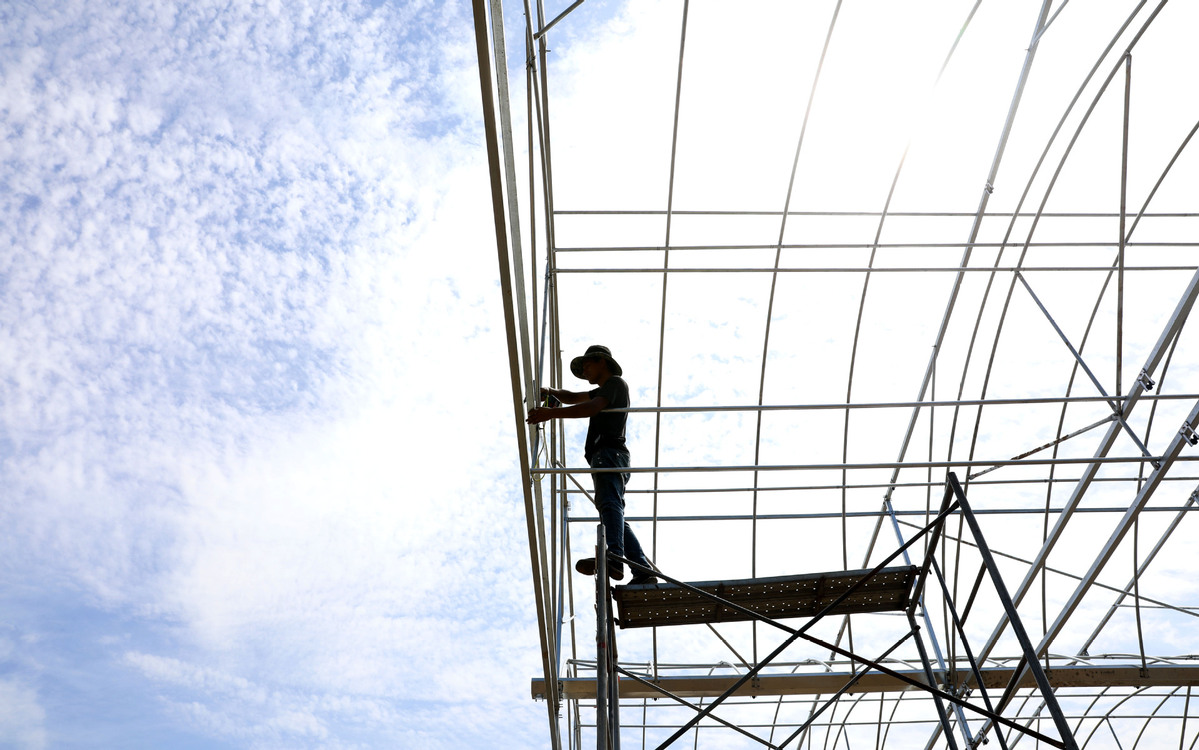 Editor's note: The Communist Party of China Central Committee, with General Secretary Xi Jinping at the core, has led the whole nation to achieve great progress in all aspects. China Daily Global Edition will publish a series of articles on the "pursuit of progress" to take a look at the changes over the past decade.
Decadelong efforts by central authorities to tackle pollution have borne fruit nationwide
At 8:30 am on Feb 8, Wang Ruchun pointed his pocket camera through the balcony window of his third-story home in Shijiazhuang, the capital of Hebei province, and pressed the shutter release.
The image he captured showed residential buildings of different heights against the background of a brilliant blue sky.
"Today's air quality must be great," Wang said.
The 78-year-old shutterbug has taken more than 3,000 such photos from the same angle of his home and at almost the same time for the past nine years.
"I wanted to record the gradual change of air quality in the city," Wang said, adding that the sky has become clearer since he started taking the photos in 2014.
A decade ago, his hometown, Shijiazhuang, was among cities in northern China that were notorious for heavy smog, especially during winter, which was partially due to the city's heavy industries and the burning of coal for heat.
Back then, such phrases as "Beijing cough" and "ambushed by all-around smog" were popular in many cities nationwide, including those in the Beijing-Tianjin-Hebei region.
Air quality was one of residents' main concerns at the start of a day, because heavy smog was a frequent occurrence.
When the smog was severe, people put on masks when going outdoors and turned on air purifiers at home and in offices, while factory activity was often suspended to curb air pollution.
"At that time, the sky was always haze-shrouded and it was difficult to see through it," Wang said.
His photos taken in the first year prove it. "Many times I could only see a nearby building at my residential community, and none at a distance could be seen because of the haze," he said.
Back then, readings of PM2.5 — airborne particles of 2.5 microns or less in diameter that are harmful to people's lungs — became widely used the public.
To tackle the severe air pollution across the country, the central government rolled out an air pollution prevention and control action plan in 2013, offering a road map and goals for improving air quality.
Governments in more than 300 cities began to take strict measures to curb air pollution and make efforts to lower PM2.5 readings.
Among the efforts in Hebei were the upgrading of industrial structures, demolition of coal-fired boilers and phasing out of high-emission vehicles, according to the province's Department of Ecology and Environment.
"With the measures in place, I believed the smog would disappear gradually and blue skies would be a regular treat for us," Wang said. "So I wanted to record the improvement in my own way."
To keep a record of the photos, Wang created a folder in his computer called "Tracking Smog", in which the photos were sorted into 10 subfiles for each year since 2014.
However, he changed the name of one for 2022 to "Chasing Blue Sky".
"With the number of days with a blue sky increasing in recent years, people have forgotten to mention the word 'smog', so I think it was suitable to change the name," Wang said.
According to his records, there were 300 days with a blue sky last year, an increase from 290 in 2021 and 105 in 2014.
Though not official, the records basically reflect the overall air quality improvement over the past decade.