Trials and tribulations
Share - WeChat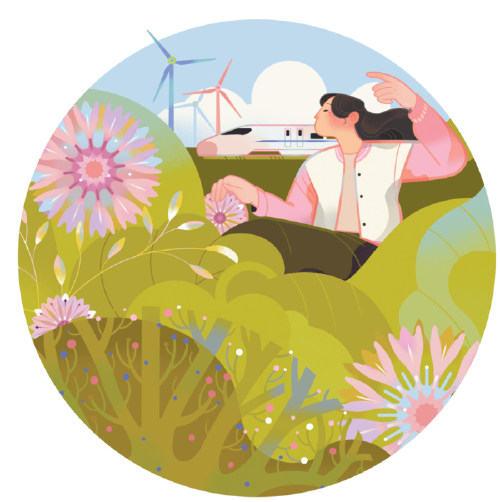 Last December, CNN asserted that Europe was becoming increasingly reliant on China for trade, with many of its top companies eager to invest in the world's second-largest economy. Europe, the news channel concluded, had a "China problem".
That view is long outdated, as China is part of the solution not the problem. In the post-COVID times, China is experiencing a significant rebound in all kinds of contacts, with tremendous momentum in work, commerce, investment, cross-border travel, and tourism unfolding step by step to the levels of 2019. Indeed, European and global companies, US ones included, are not only resuming full contact with China in most fields but also reinforcing them.
McKinsey's New York firm in one of its most recent reports in January speaks of "the China imperative for multinational companies", stressing that in the largest market the opportunities remain large "in an increasingly multipolar world". The figure is clear: China has become a major pole, with its GDP accounting for about 18 percent of the global total, second only to that of the United States.
The situation reminds me of the years following China's entry into the World Trade Organization, when former European trade commissioner Peter Mandelson proclaimed that China's development was unique in history and that the best we could do as Europeans was to observe the process and to engage with it.
Doing business with China in its broadest sense is synonymous with inspiration in pursuit of new projects and dreams in tune with a more sustainable world. Several EU and US pundits and major consultancy firms and think tanks, including the EU Chamber of Commerce in China, Natixis Bank in Hong Kong, MERCATOR in Berlin, McKinsey in New York, and Paulson Institute in Washington, among many, hint or conclude that China's entrepreneurship at the private and state levels are business-friendly and interdependence-related in meaning. From a government perspective, global challenges, including climate change, cannot be tackled without China's involvement, and this continues to be the case in post-pandemic times. Now it is urgent to address the real challenges and dismiss the grandiose geopolitical confrontation.
In the real world, recalibrating potential synergy between the Belt and Road Initiative and Europe's Global Gateway initiative remains open. In a newsletter published on Jan 29, Wang Huiyao, president of the Center for China and Globalization noted that the latter emphasizes cooperation between governments and the private sector, environmental protection, new energy and digitization, and that it could not compete with the former, which is more focused on promoting trade, circulation, finance and investment. While agreeing that the two initiatives should not compete in those dimensions, I argue instead that the two sides persevere in exploring specific cooperation in third markets, particularly, from our European perspective, in geographically neighboring Africa and in more culturally closer Latin America, both significant China partners.
Last November, Spain cemented its already firm position as the country with the longest high-speed rail network in Europe by adding a third fast train operator to its system. From here on, the picture can be enlarged, considering connecting Spain and China via Eurasia. Inaugurated almost nine years ago, the Yiwu-Madrid train connecting Europe has not been disrupted by either the COVID-19 pandemic or the Ukraine conflict, and on the contrary, its 21-day initial long route has been shortened to just two weeks. The joint development of sustainable railroads and highways in Africa and Latin America using green energies is an alternative to broaden cooperation between Spain and China as well as the EU and China.
Jim Geraghty, a seasoned columnist has recently argued that the Republican candidates for the 2024 presidential campaign, and the eventual nominee, are likely to spend time and effort claiming to be the toughest on China. Nothing new there, but what matters is that if Europe wants to have more margin of action, more autonomy in free trade and open markets as an essence of multilateralism, it should prepare to unfold smarter diplomacy with the US, in order to remind Washington how important it is to be back as champion of free trade for its own interest and the world's, before it is too late. We can simply not afford having too many current and looming global conflicts and challenges. Nowadays, the EU is the product of a series of endless dialogues and micro agreements and thus we should assume a more proper role.
The author is a professor of the Esade Educational Institution in Ramon Llull University and the director of the Dialogue with China Project, Spain. The author contributed this article to China Watch, a think tank powered by China Daily.
Most Viewed in 24 Hours
China Views