Making meaningful connections
Share - WeChat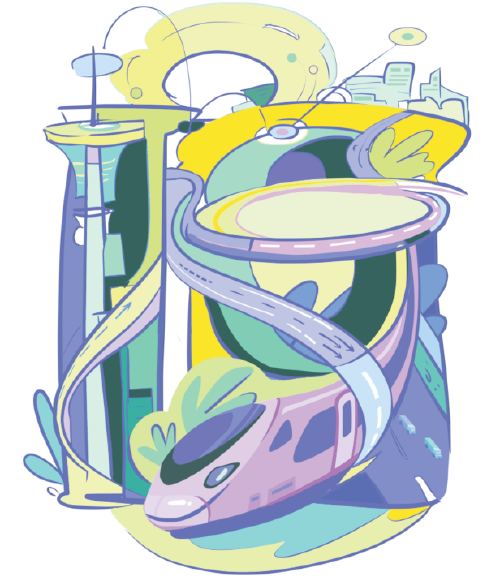 Infrastructure is the key to enhancing connectivity and is therefore a priority of the Belt and Road Initiative. Since the initiative was first unveiled 10 years ago, a general connectivity framework consisting of six corridors, six connectivity routes and multiple countries and ports has been formed, in partnership with countries along the ancient Silk Road routes. Under the framework of the initiative, many flagship projects have been launched, injecting new impetus into the development of participating countries.
The China-Europe Railway Express has ushered in a new chapter for Eurasian land transport, and has served as a crucial link for trade and economic cooperation among countries along its routes. By the end of 2022, more than 60,000 China-Europe freight trains had run across the continent, carrying over 6 million Twenty-Foot Equivalent Units of goods to nations along its routes. From 2016 to 2022, the number of annual China-Europe trains jumped from 1,702 to 16,000, and the share of freight train services in China-Europe trade soared from 1.5 percent to 9 percent.
The China-Laos Railway, another signature project of the Belt and Road Initiative, has turned the landlocked Southeast Asian nation into a land-linked hub. The railway is an important part of the Laos' bid to build a south-north rail network and become a transport hub on the Indo-China Peninsula. So far, the China-Laos Railway has seen 3,600 cargo trains running between the two countries, with the goods transported to a dozen countries including Vietnam. The types of goods transported have increased from more than 100 in the early days of the railway's operation to more than 1,200 nowadays, ranging from electronics to photovoltaic products and fruits. The weight of cargoes carried amounts to 2.5 million tons.
Recently, "China-Laos-Thailand "round-trip freight trains have departed from Kunming, Yunnan province, arriving at Bangkok after a 55-hour-journey, bringing new momentum to local development.
As Adam Smith said in Wealth of Nations, good roads and shipping routes can narrow the development gaps between different regions inside a country as well as those among countries, which indicates that infrastructure connectivity can promote regional economic development. Building hard and soft infrastructure can address deficiencies in global development and help unlock the development potential of many countries.
In developed countries, building new infrastructure and renovating old infrastructure are the key for maintaining economic growth. In developing countries, the construction of infrastructure such as roads, electricity and water-conservation facilities plays a transformative role in changing people's lives, facilitating industrial development, and improving the efficiency of economic activities. Sound infrastructure can help create a virtuous circle for economic and social development, boost developing countries' efforts to alleviate poverty, speed up the process of industrialization, and attract foreign capital. Good infrastructure also helps a country better integrate into the global industrial, supply and value chains, and helps solve contradictions and problems through development.
In recent years, the world has seen an acute shortage of investment in infrastructure, such as transport, energy and communications. According to a report published by the Global Infrastructure Hub, an initiative backed by the G20, the world will need $94 trillion to be spent on infrastructure by 2040. Every year, $3.7 trillion will need to be invested in infrastructure to meet the demand, and the spending gap is expected to reach $15 trillion. Due to long construction periods, massive investment, and long return-on-investment cycles, many countries cannot afford to build infrastructure on their own.
Countries and regions along the Belt and Road Initiative are generally underdeveloped with poor infrastructure, with many transport routes fraught with safety risks. Some countries lack a unified standard railway system and their rail transport is inefficient, while shipping routes are exposed to safety hazards and sea transport is plagued by lack of cooperation. This is the bottleneck for the development of the Belt and Road Initiative, but also an opportunity for advancing the initiative.
Jointly building the Belt and Road Initiative has provided new opportunities for participating countries to build and upgrade their infrastructure, which will bring down transaction costs and boost global trade. According to Bruegel, a Belgium-headquartered think tank, the initiative could remarkably boost European trade. By the end of 2022, China-Europe freight trains had reached 200 cities in 24 European countries through 82 routes. The value of goods transported via the train services now accounts for over 9 percent of the total China-Europe trade volume. On average, 42 freight trains run between Chinese and European cities every day.
Duisburg of Germany has the largest inland harbor in Europe. The city's development has encountered severe difficulties due to the decline of the local coal industry. After the launch of China-Europe freight train service, Duisburg has become a logistics hub of Europe. Logport, a branch company of the Port of Duisburg, has grown into a huge logistics center that employs over 6,000 workers and hosts more than 100 logistics companies, creating more than 20,000 jobs. According to data released by Duisburger Hafen AG, the operator of Duisburg Port, its sales revenue increased by 18.9 percent in 2021, and its net profit soared by over 30 percent.
The China-Laos Railway is also giving tremendous growth momentum to Laos. From January to October 2022, the value of exported goods passing through Boten, a border city in northern Laos, reached $1.2 billion, 1.8 times that of 2021.According to reports of Laotian media, the tariff revenue of the province of Louang Namtha reached 661.6 billion Laotian kip ($39.2 million), roughly equivalent to 128.33 percent of the annual target.
By connecting fragmented regional economies via the Eurasian trade routes, the initiative is promoting the trade and investment cooperation of participating countries, and accelerating the transfer of industries. In this way, a global connectivity network that integrates the flows of business, goods, people, capital, and information is being built, a human community with a shared future, shared responsibilities, and shared benefits is emerging, and a world featuring political mutual trust, economic integration, and cultural inclusiveness is becoming a reality.
The author is director of the Belt and Road Research of the World Economics Department under the China Center for International Economic Exchanges. The author contributed this article to China Watch, a think tank powered by China Daily.
Most Viewed in 24 Hours
China Views